Natural wine cellars are of course the perfect place for storing wine due to the lack of light, vibration and their specific atmospheric conditions. Of course you can store your wine in the cupboard under the stairs or in the attic but there are now more sophisticated ways to do so. Our wine coolers offer the perfect alternative to a natural wine cellar!
We supply a range of wine cooler models;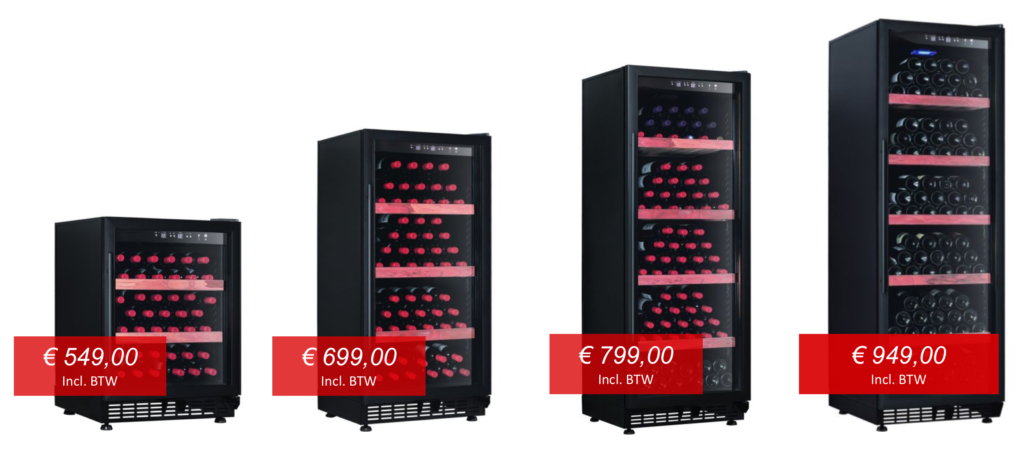 White, sparkling and red wine:
All our wine coolers are fitted with an insulated glass door and two temperature zones (12~22°C and 5~12°C), which means that they can be used to store white, sparkling and red wine. The anti-vibration system means that vibrations are consigned to the past and white wine can be stored in optimal conditions.
Humidity and temperature:
The relative humidity is monitored constantly and therefore will always be above 60%. The temperature of the stored wine will barely change (+/- 1,0°C), which means that the temperature remains constant just like in a 'real' wine cellar.
Our wine coolers ensure that your wines are stored at your chosen temperature and that they can be served immediately at any time!
We supply a range of wine cooler models, from the table model (40 bottles) to a wine cooler suitable for the hospitality sector (+200 bottles), so you can also install a wine cooler / wine refrigerator in your house, apartment, at your company and at an exhibition. The wine coolers can also be built-in and are NOT dependent on the ambient temperature.
Characteristics:
Extremely simple to install (all coolers are fitted with 4 adjustable legs)
The exterior has a trendy black finish
Subtle blue interior lighting (can be switched manually on/off)
Blue illuminated display for extremely accurate settings (can be changed per degree)
The glass door is fitted with a UV filter
The doorframe features a solid modern handle (20 mm) sprayed the same colour as the cooler
The cooler's interior is manufactured entirely from aluminium (black). Aluminium conducts heat and cold much more efficiently than plastic!
Fitted with attractive wooden shelves

You can change the position of the shelves according to your requirements
Sliding shelves with ball-bearing slides
Storage shelves can be assembled horizontally as well as at an angle of 45°

All models are fitted with a lock (and key) which prevents anyone (including children) from opening the door
Low noise level
Anti-vibration system
Fitted with an automatic defrosting system
Can be installed in cold areas (0-38°C) and is not dependent on the ambient temperature!
The models are fitted with a carbon filter
No maintenance needed